Lessons from a Digital Marketer Who Actually Does the Work
As a freelancer or business owner, you may have heard of the term "virtual assistant" or VA. But what exactly does a virtual assistant do?
Virtually anything! VAs help business owners by freeing up time to focus on more high-level tasks.
A virtual assistant can be a valuable resource to help manage administrative and marketing tasks such as scheduling appointments, managing emails and social media accounts, data entry, conducting online research, managing customer service inquiries, and so much more.
This blog may contain affiliate links for programs, tools, and courses that I recommend. If you purchase these programs, I could receive a small commission. Thank you! I only recommend vetted programs and tools I use myself! Please check out my tool & resources guide here.
The Versatility of Virtual Assistants
Virtual assistants can work remotely, which means business owners can delegate tasks without the need for office space or additional staff.
They can help streamline workflows, increase productivity, and be a cost-effective solution because as a client, you don't need to pay for benefits or provide insurance, and there are no payroll taxes to manage.
There are six main departments of business and a VA can help with tasks in any of them:
Operations
Product Development
Customer Service
HR
Accounting and Finance
Sales and Marketing
The tasks a VA performs depend on the business type—whether it's e-commerce, coaching, service providing, course creation, brick-and-mortar, or even influencer marketing.
▶️Related YouTube: How to Get Started as a Virtual Assistant
If you're wondering how to begin your new digital service or virtual assistant business, watch this video to find out the two things you need to decide first.
Subscribe to my YouTube channel for Online Marketing Techie Skills & Strategies for Digital Marketers
Pro Tip for VAs
The great thing about sales and marketing is it's a flexible field and allows you to work on your own terms without being tied down to strict office hours.
Whether you're a stay-at-home mom or juggling multiple projects alongside your 9-to-5 job, marketing gives you the freedom to manage your time effectively.
I also love marketing because it's more creative and you're closer to the sale so the value of your work increases.
Find out which simple marketing tasks I started out doing that helped me get my foot in the door – click here to download my 10 marketing services guide.
Here's a brief overview of common administrative and marketing tasks a virtual assistant can do.
Administrative tasks:
Calendar Management: Keep your schedule in check and make sure you never miss an important meeting or deadline.
Event Planning and Scheduling: Organize events and ensure everything runs smoothly.
Travel Arrangements: Take charge of your travel plans, including bookings and itineraries.
Online Shopping and Purchasing: Handle online purchases and order supplies for your marketing campaigns.
Inbox Management: Sort through emails, respond to inquiries, and keep your inbox organized.
Customer Service: Assist with invoicing, client communication, responding to inquiries, and billing.
Online Research: Gather data, conduct competitor analysis, and stay updated on industry trends.
Creating Reports and Other Documents: Prepare reports, presentations, and other marketing-related documents.
Organizing Files: Keep your digital files and folders tidy and easily accessible.
Data Entry & Transcription: Enter data, transcribe interviews or webinars, and ensure accurate record-keeping.
Basic Website Management: Update content, upload blogs, and make sure your website is running smoothly.
HR: Posting jobs and scheduling interviews
Marketing tasks:
Posting to Social Media: Schedule and publish engaging posts on various social media platforms.
Repurposing Content: Transform existing content into different formats, such as blog posts into videos or infographics.
Graphic Design: Create eye-catching visuals for your marketing materials.
Video Editing: Edit and enhance videos for your marketing campaigns.
Copywriting: Craft compelling copy for your website, ads, and social media posts.
Proofreading: Ensure your marketing materials are free of typos and grammatical errors.
Content Marketing: Develop content strategies, create engaging blog posts, and manage content calendars.
Email Marketing: Design and execute email campaigns to nurture leads and engage with your audience.
Affiliate Marketing: Manage affiliate partnerships, track referrals, and analyze performance.
Pitching to Media: Write persuasive pitches and reach out to journalists or influencers.
Podcast Management: Assist in podcast production, scheduling guests, editing episodes, and promoting the show.
Social selling: Leveraging social media platforms to generate leads and drive sales.
Community management: Engaging with your online community, responding to comments, and fostering a sense of belonging.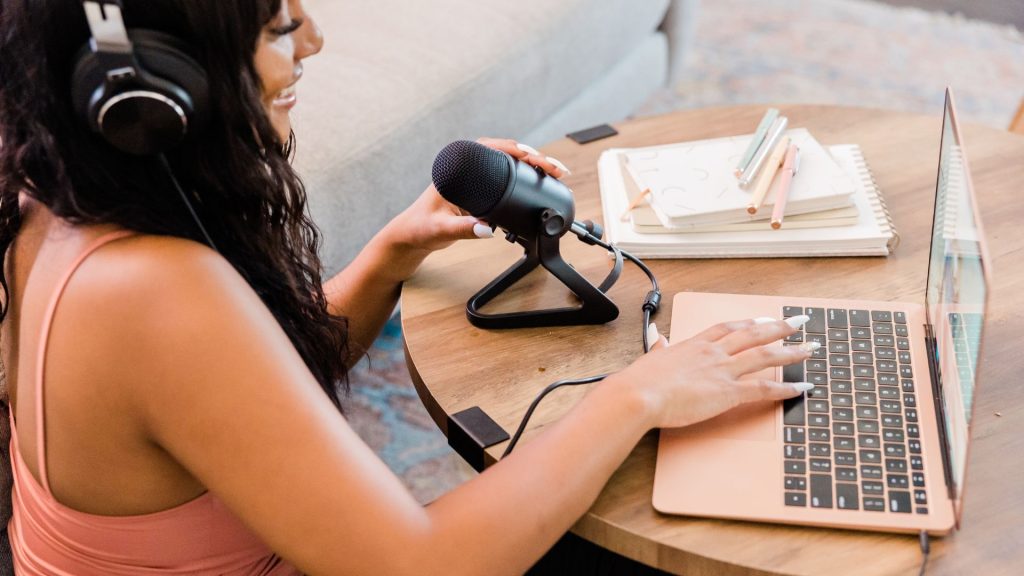 ⚡Related Podcast Alert: How to Get Hired as a Virtual Assistant
From the moment you sign your freelance client, you are expected to take the reins. Seems simple yet that's not always the case. Listen in and learn how to make this new working relationship successful from the beginning of your kick-off call.
Subscribe: Apple Podcasts | Spotify | iHeartRadio
Virtual Assistant vs. Manager-Level Roles
Where it gets dicey is knowing the difference between a VA and a manager-level role. If a VA is managing other contractors, deadlines for projects and outcomes, and tracking key performance indicators (KPIs), they are most likely at a Project Manager level.
It's cool because a lot of VAs will get to know a business and work their way up to be Online Business Managers or Project Managers.
Choosing the Right VA
If you're a business owner thinking about hiring a VA, make sure you have a defined role and scope for your teammate and that they only work with one manager.
Download my hiring guide to help you decide on your next hire and write your job description at emilyreaganpr.com/hire Or put your job in with my workgroup of marketing assistants at hireaunicorn.com
One of the sticky points about defining a VA, is it really could be anything because it's such a general term. What you don't want to happen is a misclassification, like treating them as employees instead of independent contractors, which can lead to legal and employment-related issues.
A VA can free up your time as a business owner and help you pull out tasks that are time-consuming but not necessarily high-level. Following the 80-20% rule, successful business owners should spend their time on the 20% of the business that makes money, while outsourcing the other 80%.
Curious about starting your own service-based business from home?
This list is for you!
Grab my list of digital marketing-related tasks and services that online business owners are outsourcing and always need help with.
This is a goldmine of services you could be offering to your clients in your digital marketing VA business.
Thinking about starting a digital marketing services business? Want to work from a laptop anywhere and decide your own schedule?
Take this quiz to open your eyes to remote work possibilities and where you can fit in with who online business owners are hiring.
The Takeaway
Virtual assistants can help online business owners manage their workload and increase productivity, allowing them to focus on more high-level tasks. By outsourcing administrative or marketing tasks, business owners will be able to streamline their workflow and free up valuable time to grow their biz.
Working remotely has been a game-changer for me!
If you're thinking about freelancing as a virtual assistant, I have lots of good resources to help you on your journey. I encourage you to check out my YouTube channel, my Unicorns Unite podcast, and other blogs here!
Further Reading