Lessons from a Digital Marketing Virtual Assistant who actually does the work:
Today I'm excited to host a guest post from Christal Allen, who is sharing her remote work expertise as a real estate transaction coordinator.
So if you're ready to niche down and specialize in the real estate field as a virtual assistant, or if you just want to learn more about working online in the real estate field, keep reading Christal's post below, and watch our YouTube Interview and get ready to dig in!
And if you're looking for more details about how to bust into the world of working from home in real estate, take a look at Whitney's success story in the field!
XO EMILY REAGAN, UNICORN DIGITAL MARKETING FREELANCER
Interested in working from home in the real estate world?
Do you love real estate, but don't want to be a Realtor? Are you tired of feeling stuck and not knowing where to start in your VA business?
Consider specializing in transaction management for Realtors! This role, which can also be called Transaction Coordinator, or Real Estate Virtual Assistant, is a perfect fit for virtual assistants.
You would work directly with Realtors and their teams to manage the paperwork of their buyers and sellers during escrow. (Escrow basically means the "active" part of a real estate transaction when the home is actually being bought or sold.)
Here's What You Need to Know About Working Online as a Real Estate Transaction Coordinator
Managing transactions for Realtors as a virtual assistant does not require you to be licensed. However, you DO need to have strong organizational skills, an eye for details (you will be reviewing contracts), and strong communication skills as this role is primarily executed through email.
You and the other parties of the transaction (lender, real estate agents, attorney/title company) will have the honor of assisting buyers and sellers with one of the largest financial transactions most of us make in our lifetime. And for that, as well as the lifestyle freedom it provides you as the business owner, it's a pretty special business to have.
You get to play an integral role in the real estate transaction, all from the comfort of working from home. No putting out "Open House" signs on the weekend or acting out an episode of House Hunters with indecisive buyers.
How to Become a Real Estate Transaction Coordinator with Christal Allen:
What You Can Expect as a Real Estate Transaction Coordinator
One of the many benefits of this business is the versatility.
You don't have to work on the weekends and you can work from home or anywhere you have your laptop or desktop. (Note: you cannot work this real estate business solely from your smartphone. You will need a computer.)
Generally, Transaction Coordinators are paid per transaction. Rates typically range from $225 – $350 per transaction.
However, if you are a licensed Realtor, you can charge more because you can do more, like write contracts and negotiate repairs. In this case, as well as in expensive real estate states (like CA or NY), transaction rates can go up to $450.
Real estate transaction coordinator training
Ready to learn more about working from home as a real estate VA?
If this sounds like a perfect fit for you, Christal runs a "Real Estate Transaction Coordinator Masterclass" that will give you the foundation you need to work from home in the virtual Real Estate industry.
The Masterclass is a true "business in a box" providing you with training on what a transaction looks like and how to work it plus so much more! You'll also learn how to manage multiple files, your finances, business basics, marketing and how to keep clients.
Or, if you are already an experienced Virtual Assistant and only need the Real Estate Transaction Coordinator Training, scroll down to the "Real Estate Starter Course" that's a perfect fit for you.
You are appreciated!
– Christal
A little more about Christal: She's a proud momma and wife. In business as an online entrepreneur since 2014, she currently serves as a Mindset, Business & Life Coach. Prior to entrepreneurship she received her Masters degree and spent 10 years in the Higher Education sector.
When she is not spending time with family or friends, she is working in/on her business guiding other women towards their own definition of success. When she is not doing that…she enjoys catching a Golden Girls rerun and drinking tea!
Related Podcast Alert: The Unicorn VA Who Busted into the Online Real Estate Field
If you're feeling uncertain and want to hear a real life success story from a WFH mom working online in the realty world, this podcast episode is for you! Queue it up now:
Subscribe: Apple Podcasts | Spotify | Libsyn | iHeartRadio  | Listen Notes
More posts you won't want to miss:
Working from home in the virtual real estate world…
How do you know when it's time to quit your client?
Finding a life balance when you work from home…
How to start working online even if you haven't worked in years…
Get my list right here of the top 10 tasks that business owners always ask for help with!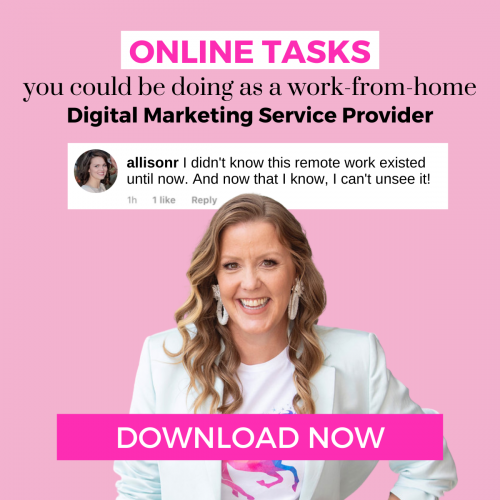 Take the Quiz: What Kind of Digital Service Business Is Best Suited for YOU?
I created a quiz to help you decide which of the VA Tracks you should look into based on your strengths and personality. There are FOUR different results, one which is clearly best suited for the VA to OBM/DOO track.