Lessons from a Unicorn Digital Marketing Virtual Assistant who actually does the work:
Well, here we are over a year after the pandemic began. And whether you were already working from home as a virtual assistant, or covid-19 pushed you into a new VA role, it's probably been a crazy year. And it's been HARD. So here are my favorite tips and suggestions for preventing burnout and keeping your VA business booming.
Trust me, I've been doing this work-from-home gig a long time. Long before zoom meetings and Google classroom were part of our mainstream vocabulary. And while it definitely has its benefits, it can be challenging too. And that's before you consider a worldwide pandemic!
(Because this all seemed a whole lot easier before my kids were doing remote learning under my office desk and my husband was holding conference calls three feet behind me.)
This blog may contain affiliate links for programs, tools, and courses that I recommend. If you purchase these programs, I could receive a small commission. Thank you! I only recommend vetted programs and tools I use myself! Please check out my tool & resources guide here.
1) Keep your sights on the long game.
I love working with smart new up-and-coming unicorns who are just busting into the virtual assistant world.
But here's something I've noticed about so many of these smart women.
They're eager to get started and get their foot in the door. So they jump at every opportunity to get clients, even if the client isn't a good fit.
Sure, it's important to begin networking, building your portfolio, and extending your professional reach. You have to hustle to get your name out there when you're brand new.
And we all have to pay our bills.
But keep in mind, from the very beginning, that you started working as a freelancer because you wanted some control over your day-to-day life and what was expected from you. And being picky about the clients you take on is a big part of that.
Sure, we've all found ourselves in business relationships with owners where we realized we've made a mistake. Where we've had to cut our losses and quit a client.
But you're not doing yourself or anyone else a favor if you jump at every single opportunity without considering whether it's actually right for you.
So if you want to prevent burnout (and client-hopping), keep your eye on the prize as soon as you start your VA business.
Trust me – there are plenty of job opportunities for smart unicorn VAs out there. Be patient and wait for the ones that are good for you.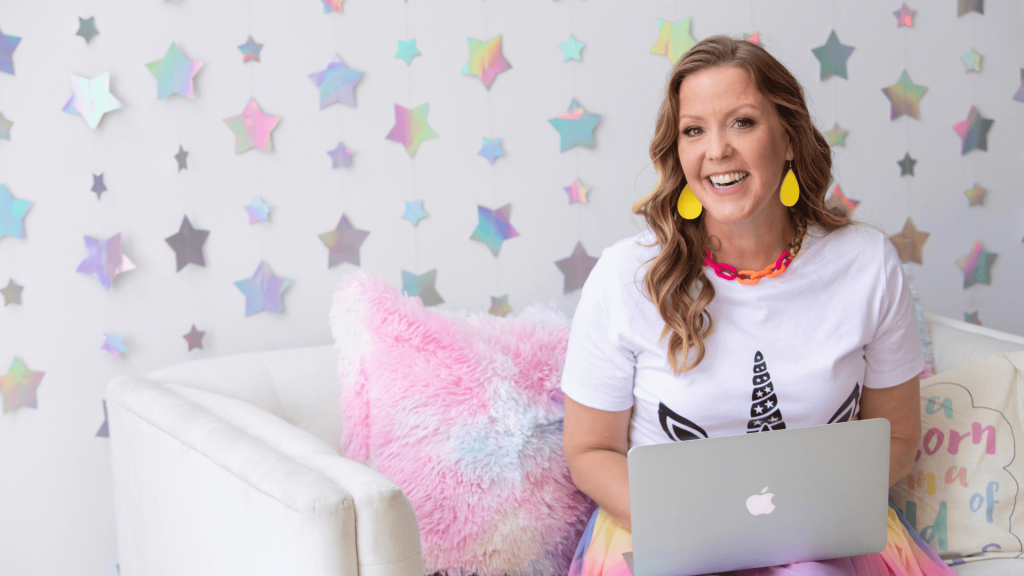 2) Learn from those who have been there (and who know to prevent burnout in their own VA business)
It can feel overwhelming to be out there doing this on your own. Especially if you're coming from the corporate world where you had a big safety net behind you until you had the chance to learn the ropes.
But it doesn't have to be that scary. You aren't reinventing the wheel.
Start small, with the tasks where you are the most comfortable. You don't have to learn (and do) everything at once.
Build your confidence before you take on even more. That's one reason that I created my Facebook Community Manager class, because after only two hours of training, it can launch you into a highly sought-after niche of digital marketing.
And there are plenty of online gurus that you can follow on IG, listen to their podcasts, or join their free facebook groups.
(And while you're at it, make sure you're in my free Facebook group – the Unicorn Digital Marketing Assistant Lab – and subscribed to my Unicorns Unite podcast to get free access to expert tips and insider secrets every week!)
On the other hand – this one is tricky. Sometimes you sign up for so many workshops and courses and free trainings that you're burned out before you even begin.
So start slow, but make sure you connect. Because a key factor of preventing burnout is realizing that you aren't doing this alone. Build your community and make meaningful connections in the online space. And take advantage of all of the free info and gold nuggets that you can absorb from these connections.
3) Set boundaries for your sanity
This one is so important to me that I devoted an entire podcast episode to it recently. Because it's an important lesson that I've had to learn in my own VA business to prevent burnout, and I see a lot of other freelancers struggling with it too.
Let's face it – we're all used to giving up our own needs and priorities for others all the time.
Whether it's our family commitments as a mom, wife, or caretaker for our parents. And our obligations in our community at church, sports practices, or the local non-profit.
Or especially in our VA roles with our clients.
Part of the magic that comes from working at home as a VA is that you do have flexibility. You can grab your laptop and head for a mid-week camping trip with your kids (as long as you have good wifi).
You can be like one of my unicorn students and work from the deck of your boat while soaking up the sun with a tall glass of iced tea.
Living the dream, right?
But unfortunately sometimes that goes too far the other way. Like when I found it difficult to put my laptop away long enough to enjoy a trip to a family member's wedding.
Or when I stayed up way too late helping a client and then my family had to pay the price the next morning when I was a total grouch.
I should have said no. It wasn't worth it.
So don't forget that the whole reason you're here, working from home, is because you want to make your own rules.
Don't fall so far down the rabbit hole of making your clients happy that you forget that you're a business owner, and not their personal employee.
You get to say no. You NEED to say no.
If you aren't happy, it's ok to reinvent yourself. It's ok to go a different direction. It's ok to pull back, re-examine your goals, and change course. Don't keep repeating the same patterns that make you unhappy and overwhelmed.
(If you want to dig deeper into this and get more inspiration, you need to check out the entire podcast episode that I've devoted to setting boundaries)
⚡️ Related Podcast Alert: How you can prevent burnout as a VA with Essentialism
I recently read Essentialism by Greg McKeown and came away with some great ideas about how it's important for freelancers and virtual assistants.
From learning how to say no, to finding your focus – here are my takeaways from his advice and how it applies to working from home:
Listen on Apple Podcasts or your fave podcast app
Curious about starting your own service-based business from home?
This list is for you!
Grab my list of digital marketing-related tasks and services that online business owners are outsourcing and always need help with.
This is a goldmine of services you could be offering to your clients in your digital marketing VA business.
The Takeaway: Working as a self-employed VA can be challenging, but you can prevent burnout by keeping your goals in mind, setting boundaries, and reshaping your professional role when you need to.
Like I said at the beginning – this isn't easy stuff. We all struggle from time to time and lose inspiration or feel so overwhelmed that we don't know where to begin.
And let's be honest – I could write ten more blog posts with advice about this topic. It's that important.
For example – take a few minutes to watch this video interview I did with Jen Argue about the importance of self-care and how it improves your business success:
How to Make Self-Care your Business Strategy
And then spend some time doing a serious look at your priorities and values. Think about what areas you need to embrace to grow, even when they are scary and uncomfortable.
And think about what areas you need to let go and learn to say no. Protecting those boundaries is vital to preventing burnout in your VA biz.
When we forget our ability to choose, we learn to be helpless.
Here's to a fresh new focus!
-Emily, Digital Marketing Consultant and Implementer
"I help smart women learn the in-demand digital marketing strategies and profitable tech skills to get hired as a unicorn digital marketing assistant."
3 ways we can work together:
1. Do you need to acquire digital marketing implementation skills and build your workflows so you can solidly put yourself out there for work? Check out the Unicorn Digital Marketing Assistant School. (It opens twice a year so jump on the waitlist now!… I also share job leads with my students so it's a gateway for anyone who wants to build a freelance business that gives them flexibility and meaningful work). You can also choose to go through the self-study program now. Enroll here.
2. Already doing the work and have clients? But need more clients and a better referral network? Apply for my Digital Marketer's Workgroup. This is a tight-knit community of freelancers like you, supporting each other. Plus I've shared 1,600+ job opportunities with this community.
3. Need to hire a Unicorn Digital Marketing Assistant? Submit your job opportunity here. I'll share with my workgroups totally free.
Further Reading
Yes, you really can work online:
Feeling overwhelmed and not sure how you can work from home and build your own online digital media business? Take a deep breath – you can do this. First start here with my list of 10 popular tasks that online businesses need help with the most!
These are the tasks that new clients are constantly asking for help with, and skills that they really need to find in a virtual assistant. Get access to this free download right now. Then make sure your own VA toolkit is up-to-date and relevant, and decide where you might need to invest in new growth and development for your biz.