Lessons from a Digital Marketing Virtual Assistant who actually does the work:
Right now, if you're reading this from home isolation – 2020 coronavirus style – you've probably been thrown for a loop. Like a giant loop of an extreme roller coaster where all you can do is hold on, scream your head off, and hope the ride finally stops before you lose your lunch. Whether you're a digital media virtual assistant, or you own your own business, we're all feeling a bit Twilight Zone-ish right now. So here are my personal tips for thriving (or even just surviving!) while working from home during the COVID-19 crisis.
We're all sharing these new stresses and uncertainties right now.
You're not alone. I'm a mom to four young kids with a husband in the military. Crazy is just the beginning of our normal even before this global pandemic.
Before all of this, I felt like I had finally worked out some good routines as a working mom and online business owner. I had enrolled my youngest in childcare and during the day, when all four kids were at school, I finally had uninterrupted time to focus. To create and collaborate and actually complete a full thought or a sentence.
I was no longer scrambling to squeeze in work late at night or on the weekends when my brain was tired. And I could actually invest time into growing my own business, building my own course, and of course, serving my clients.
Then, the pandemic hit and we were suddenly all quarantined. Lots of little people with lots of big needs started just showing up and taking over my home office every morning.
And now, like many of you, I'm shuffling google classroom schedules and zoom classes and four kids who want to eat snacks 400 times a day. And still trying to find ways to nurture my growing business, and help my clients thrive.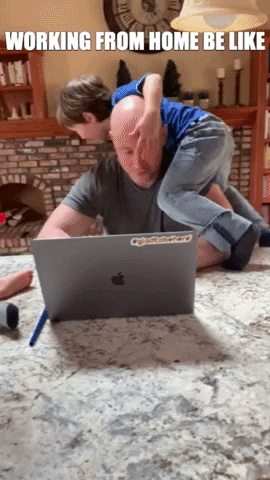 My tips for working from home during quarantine (Or, how I'm staying sane during the pandemic)…
Right after this all began, I was asked to be a guest speaker on Heather Sager's "Finding Your 'It' Factor" podcast. She was creating an episode entirely around this new extreme working-from-home situation called "Quarantine Productivity Hacks for Online Entrepreneurs."
I jumped at the chance to share some of the adaptations I had quickly made in my own work-from-home life. And I absorbed so many ideas from the other guests on the show:
This episode was gold to me when I was all in my feelings about the quarantine situation. All these women mentioned struggles that were just like mine – the stress of sharing your home and working space with lots of uninvited new coworkers, often under the age of 10. The anxiety of the economic uncertainty and knowing how to pivot your business to align with the new normal. And the urge sometimes to just give up and lose focus of all the action we had been taking for our businesses earlier in 2020.
Working from home as a VA or business owner is hard during quarantine.
But there are options. And I knew that I would need to make decisions for my own sanity.
So I made a mental shift, and knew that I would need to create a new balance and new routines. And we're far from perfect in my house right now, but here are some things that are working for me:
Communicate with your clients and your customers.
I can't tell you how many times in my career I've heard from angry clients about a VA who has suddenly ghosted them. They're left hanging and frustrated with unfinished projects and unchecked to-do lists. And now, it's happening more than ever during this stressful time.
So if you're finding yourself overbooked, own it. Talk to your clients and let them know that you're in over your head right now. Maybe you can work with them to prioritize a few key tasks and delay some others. Or they can temporarily outsource some work to another team member.
Same if you're a business owner. If you're having difficulty getting supplies or product shipments are delayed, let people know. If you're having trouble getting your course launched on time, let your waitlist know. Be honest and upfront.
Many of your clients and customers are going to be in similar situations. They're going to give you grace if you have the decency to keep them in the loop and be upfront. But you have to keep those lines of communication open and be honest about what you can realistically deliver, and when.
Take a hard look at your schedule.
Let's face it. You're not going to get a perfect scenario in your daily schedule right now. There are too many people sharing devices, bandwidth, and desk space.
So take a few minutes and hit the priority points. What are the must-do daily tasks to keep your business, or your clients' businesses, rolling? How long will you need to accomplish the minimum checklist each day?
Then see how you can fit your family needs around that. Don't be afraid to give up the things that don't make sense right now. Or the things that are holding too much virtual space in your family. Use tools like screen time and planned snacks to your advantage.
For my family, I realized that I needed time in the mornings to work. That's when my kids are generally happy to play together and are less demanding of my time. So I shifted most of my older kids' school tasks into the afternoon. Now in the mornings, I have at least an hour of time to work while all my kids are watching cartoons and eating snacks. I can focus on answering emails and updating social media posts, and getting a list of my must-do tasks going for the day. Then, I can spend the afternoons giving more attention to each of my kids when they really need it.
Don't even try to work during the crazy hours. You know the times I'm talking about. You won't accomplish much at all and the stress just isn't worth it. Put away your laptop and embrace those moments for what they are.
Tap into your resources.
You might have a spouse who is still working at their regular job as an essential worker, or they're working full-time from home too. Everybody is feeling the stress right now.
But don't be afraid to lean into your partner. Ask for help when you need it. Work out a schedule where you rotate being the "on-call" parent who answers school questions or pours a glass of juice on demand.
If you have older kids, get them on board! Hire them to be a mother's helper and keep their younger sibling entertained during a specific time each day. Or to be a tutor and help the younger siblings with school. How else can they help? Revisit your chore schedules that are collecting dust in the pantry, or brainstorm ways to help those middle grade kids do their assignments more independently.
And don't forget about your business resources. If you're already feeling stretched, this probably isn't the time to learn a big new tech skill or take on a brand new digital media project you have planned. Instead, tap into your business team members and VA network to see who you can outsource a tech job to, or subcontract to do part of a new project.
The Takeaway: Be Intentional About Working From Home During Quarantine
Once you have your plan in place, stop focusing on the stress and all the things you're NOT doing. Shift your attention onto the positives. Pay attention to the small accomplishments you're making, and see the good moments for what they are. Let the things go that have to go right now.
Like Tarzan Kay said in the podcast episode, you need to be able to surrender. Keep moving, keep working, but surrender the stress and anxiety that is brought by things out of your control.
And don't forget to carve out some time just for yourself. Schedule moments that aren't devoted entirely to your family, your clients, or your towering laundry pile. You can't give 110% to your kids and your business and your household for all these weeks without collapsing.
So pick up that book you've been wanting to read. Put on some headphones and listen to a fun audiobook or catch up on that podcast you've been wanting to try. Sign up for a zoom yoga class or youtube a bootcamp workout. Get outside and get some fresh air, even if it's sitting on your own front porch with a cup of coffee.
Because soon you'll be on the other side of this, looking back at this whole experience. And then you can be ready to hit the ground running with growth and development and big new ideas. But right now, if all you can do is survive, then buckle your seatbelt and hold on for the ride. And you happen to need a few moments of screaming your head off before this ride is over, you won't be the only one.
From my crazy quarantined house to yours,
Emily
-Emily, Digital Marketing Consultant and Implementer
"I help smart women learn the in-demand digital marketing strategies and profitable tech skills to get hired as a unicorn digital marketing assistant."
3 ways we can work together:
1. Do you need to acquire digital marketing implementation skills and build your workflows so you can solidly put yourself out there for work? Check out the Unicorn Digital Marketing Assistant School. (It opens twice a year so jump on the waitlist now!… I also share job leads with my students so it's a gateway for anyone who wants to build a freelance business that gives them flexibility and meaningful work). You can also choose to go through the self-study program now. Enroll here.
2. Already doing the work and have clients? But need more clients and a better referral network? Apply for my Digital Marketer's Workgroup. This is a tight-knit community of freelancers like you, supporting each other. Plus I've shared 1,600+ job opportunities with this community.
3. Need to hire a Unicorn Digital Marketing Assistant? Submit your job opportunity here. I'll share with my workgroups totally free.
Further Reading