Lessons from a Digital Marketing Assistant Who Actually Does the Work
Freelance marketers, email marketers, digital service providers, virtual assistants, and small business owners, I've been wanting to have this conversation with you…but have been looking for answers and boundaries first… I finally have them.
If you would like to remark, educate and add to this conversation nicely and lovingly, please leave your comments.
Here's the background: two years ago a business mentor told me as a white woman I am never allowed to use people of color in my gifs and educated me on Digital Blackface.
I was so grateful she alerted me.
She was referring to a gif of a Black woman "shhhing" the camera. I used it in a webinar show-up email sequence to show that I had a secret and pique interest in attending the webinar live. A common marketing tactic.
In my mind, the gif was unalarming and not a big deal. It was hard for me to understand.
But as I thought more, I got really confused about using gifs. When is it wrong? Can it ever be right? This blanket gif rule meant I could never highlight my fave Peloton instructors and give a nod to Ally Love or Tunde Oyeneyin. It meant that I couldn't use gifs that my diverse audience would appreciate and relate to.
I want to be able to honor and shine a light on Black women too. That didn't seem right either.
As a Digital Marketer, I use gifs for my clients on:
emails
landing pages
thank you & confirmation pages
social posts
Facebook comments
Tiktoks
Instagram stories & reels
Gifs are a great way to add personality, emphasize themes, tell a joke, and draw your attention down the page to important copy.
I love a good gif…. especially if it involves a cat, a unicorn, and a TV show I'm currently binging. (Right now it's The Last of Us so all the Pedro memes and gifs.)
As a marketing & virtual assistant coach, I teach my freelance marketing assistants how to make gifs for their clients in my Gif & Sticker Making Workshop. And since I teach making gifs, I must know the rules and teach my DMAs (digital marketing assistants) because the last thing I want to do is come across as ill-informed and ignorant, and put my client in a position to become attacked, ridiculed, or perceived as racist because I was uninformed as a digital marketer.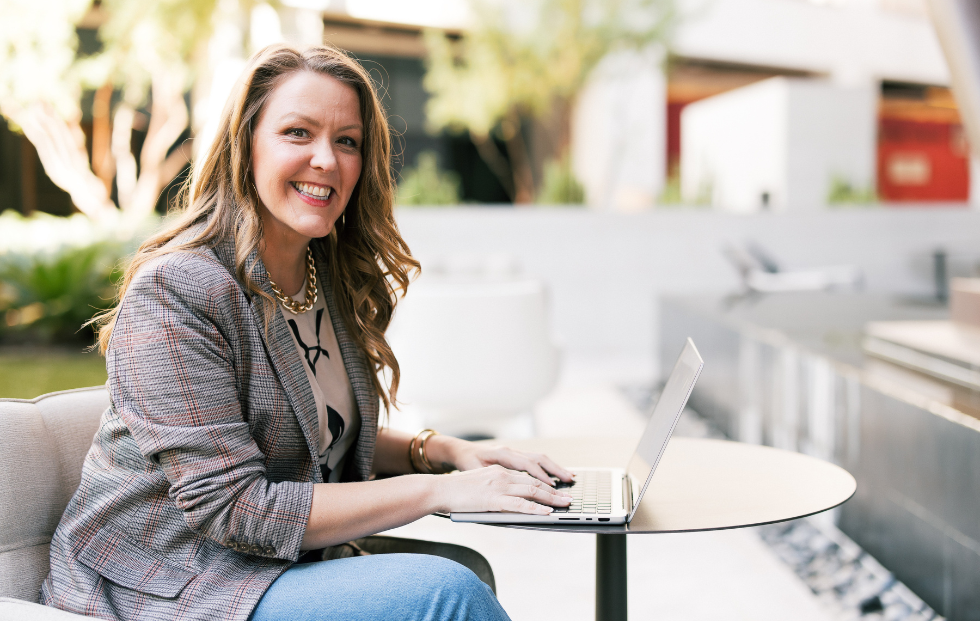 This blog may contain affiliate links for programs, tools, and courses that I recommend. If you purchase these programs, I could receive a small commission. Thank you! I only recommend vetted programs and tools I use myself! Please check out my tool & resources guide here.
So when I met with Diversity Equity and Inclusion coach Erica Courdae at a Business Retreat in Richmond last weekend, I had a very specific gif marketing question for her:
Can I use Black women in my gifs? What are the rules?
Erica told me, do NOT use Black people in gifs if the gif is:
not the way you (or your client) talks
cultural appropriation
the target of a joke
demeaning
profiting off the language and expressions of Black people for entertainment
If you're like me, you need guidelines to check yourself, contain your brain, and know what's right or wrong.
I found Erica's recommendations so helpful and felt so lucky to have run into her in person at this retreat!
Please bring this awareness with you moving forward when choosing gifs for social, emails, comments, landing pages, etc. for you and your clients.
Connect with Erica on Instagram @ericacourdae.
She has a helpful podcast called Pause on the Play and a free DEI masterclass to help you improve your diversity & inclusion inside your online business. If your client has a membership or marketing challenge, I encourage you to book Erica as a guest speaker to help educate your clients' audience too. We can make a difference and pay attention.
I had this conversation with Erica just ahead of this CNN article:
⚡Related Podcast Alert: Email Marketing Without Coercion
Tarzan Kay shares her story of marketing with an unconscious bias and how she tore down her million-dollar business to be more inclusive. Listen here:
Subscribe: Apple Podcasts | Spotify | iHeartRadio
Diversity in your Marketing
It's extremely important to me that I show diverse Black and Brown women in my marketing assets. When I build quiz funnels or sales pages for my clients, I'm conscious of the skin tones in my stock photos. One of my favorite resources for beautiful stock photos is Nappy.co. All of the stock sites I used give options for skin colors. I have particularly loved Jasmin Star's Social Curator for this reason.
The Takeaway
As marketers, we have the biggest influence on what the rest of the world sees in visual advertising and content marketing. It's our job to understand these DEI issues and inform our clients. We can do a better job of portraying Black women and being inclusive. This includes ages, races, body types, gender, and people with health conditions or impairments.
We have an important role and can be the person on our client's team who can ensure that their audience feels seen.
We're not always going to understand people's cultural issues and lived experiences but as long as we're willing to learn and research, we are headed in the right direction.
Please bring this Digital Blackface awareness to clients and your everyday client work and photo/gif choices.
When in doubt, leave it out.
How to Become a Virtual Assistant
Infosession with Emily Reagan
LIVE 12pm est Wednesday, Sept. 20
for stay-at-home moms, military spouses, teachers and career-changers
( no pitch, just the goods on what you need to know to stop forever researching and don't waste your money on a basic b set up course.)
-Emily, Digital Marketing Consultant and Implementer
"I help smart women learn the in-demand digital marketing strategies and profitable tech skills to get hired as a unicorn digital marketing assistant."
3 ways we can work together:
1. Do you need to acquire digital marketing implementation skills and build your workflows so you can solidly put yourself out there for work? Check out the Unicorn Digital Marketing Assistant School. (It opens twice a year so jump on the waitlist now!… I also share job leads with my students so it's a gateway for anyone who wants to build a freelance business that gives them flexibility and meaningful work). You can also choose to go through the self-study program now. Enroll here.
2. Already doing the work and have clients? But need more clients and a better referral network? Apply for my Digital Marketer's Workgroup. This is a tight-knit community of freelancers like you, supporting each other. Plus I've shared 1,600+ job opportunities with this community.
3. Need to hire a Unicorn Digital Marketing Assistant? Submit your job opportunity here. I'll share with my workgroups totally free.
Further Reading