Lessons from a Unicorn Digital Marketing Assistant who actually does the work:
If you're a virtual assistant, you've probably heard a lot of buzz about copywriting. Whether you're a brand new beginner, or a seasoned expert, I'm sure you've seen the job ads looking for digital media marketing assistants with copywriter experience.
And there's good reason for it. Online business owners – your potential clients – are using the written word to communicate to their customers every day. Whether it's a sales page, a social media update, or a blog post, there is a constant need for good, solid copywriting skills. And honestly, many clients just don't have the time (or the experience) to do it themselves.
So copywriting should definitely be on your radar as a virtual assistant, and I want to share some insider's tips to help you dig in!
This blog may contain affiliate links for programs, tools, and courses that I recommend. If you purchase these programs, I could receive a small commission. Thank you! I only recommend vetted programs and tools I use myself! Please check out my tool & resources guide here.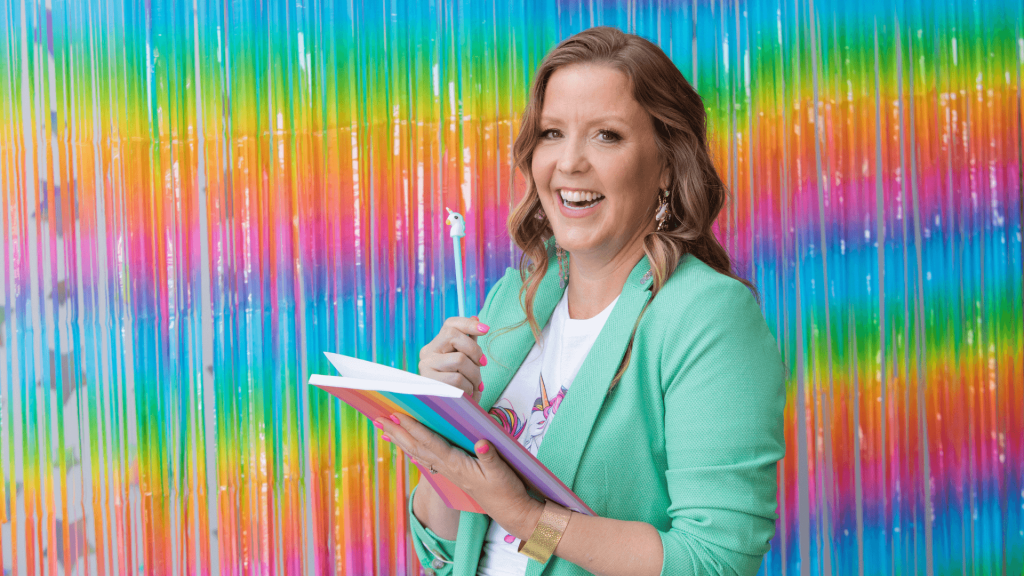 Are you a new virtual assistant who is wondering exactly what copywriting actually involves?
Copywriting is a specialized skill of high-level unicorn digital marketing assistants.
Basically, it's the specialized ability to write smooth and compelling content for a business owner's marketing text and sales material. Which is also known as "sales copy" or just "copy".
And so that's where you get the term "copywriting", and the virtual assistants who do it are called "copywriters". Although you might also see similar terms like "Content Marketing", "Copy Specialist", "Business Ghostwriter", or "Content Marketer".
Good copywriters know exactly how to reach their target audience and can carefully choose their words, phrases, and content matter.
And they can do it in a way that feels authentic and on-brand for their client and their client's own voice.
Why should you consider adding copywriting to your virtual assistant services?
Do you have a natural talent for writing and communicating? Do you enjoy reaching out to others and sharing ideas? What about connecting people with the products and services that they need (even if they don't even realize it yet?)
If any of this sounds familiar, keep reading! You may have exactly what it takes to add copywriting to your unicorn digital marketing skills as a virtual assistant.
And if that's the case, it's worth pursuing. Because it's such a lucrative, in-demand niche right now!
In fact, many virtual assistants find that they can charge double their original rates (or more!) for quality copywriting services.
And as you know I always promote the benefits of successful new VAs starting as unicorn, jill-of-all-trades business sidekicks.
But it can also be a huge boost to your VA biz if you find a virtual assistant niche like copywriting that you love. And if you pair it with a solid background in digital marketing and knowledge of SEO, you'll be taking your VA biz to the top tier of virtual assistant services.
Copywriter Marilee Hayes of 5H Copywriting is a successful graduate of my Unicorn Digital Marketing Assistant School. She began working online as a unicorn digital marketing virtual assistant. But quickly realized she could tap into her love of writing to niche down into copywriting.
Speaking about her work in copywriting, she says, "My income has increased drastically as has my enjoyment of my work…I have flexibility that allows me to do work I love while maintaining the work/life balance I need!"
Read more of Marilee's journey to digital marketing success as a busy mom and former teacher/author in her blog posts HERE and HERE. Or listen to our podcast episode together!
How do you get started with copywriting as a virtual assistant?
If you've read this far, I'm assuming you've already started working in the online space as a VA or digital media marketing assistant. (And if that's not the case, make sure you head over HERE to check out a post I wrote just for those of you who are just getting started.)
And if you're still fairly new to the world of digital marketing, it's normal to begin by slowly helping your client with smaller writing tasks that are a part of the big marketing picture. You will probably find yourself writing headlines, creating call-to-action prompts (CTAs), sprucing up landing pages, revising emails, or just generally repurposing and tweaking content across platforms.
Soon, though, you may find yourself ready to tackle more serious writing tasks. Things like writing original content, creating blog posts, and beginning new email campaigns from scratch. But even if it's exciting, it can be very intimidating.
So keep reading for my insider copywriting tips for getting started as a copywriter virtual assistant. Plus, some ideas for leveling up the copywriting services you may already offer as a unicorn digital media marketing assistant.
Start here:
Here are the basic tips every virtual assistant should know if they want to get into copywriting:
Understand CTAs (your "call to actions") – why they're important and how to maximize their impact
Get familiar with the different purposes of copy – you're going to write differently if you want a direct response from your audience, vs a sales landing page
Start slow and be patient
Practice, practice, practice!
Get to know your client's voice so you can channel it into your writing – watch their FB lives or listen to their podcast and make note of their frequent phrases, greetings, etc
Get ongoing and honest feedback from your client (but don't take it personally!)
If you're already doing these things and want to take it to the next level, consider making a "brand voice guide" for your client. You can note their target audience and really dig into their individual personalities.
Incorporate it into your client intake form. Ask them about their favorite tv shows, movies, hobbies, etc. How do they bring their personal story into their business life? Are they a Target junkie? Is their faith a major part of their daily life? Are they huge fans of the The Office? (Or is that just me?!?)
These are the little details that can really personalize your copy into an authentic and effective tool for your clients. And you'll be able to charge a premium to offer it! Once you start writing from scratch for your client, your rates should reflect it.
Then dive in deeper with these podcasts and resources that are full of copywriting gold for virtual assistants:
If you're intrigued and ready to jump into the world of copywriting, start with your existing clients as a virtual assistant. And spend some time with some of these amazing resources I've shared for copywriters…
⚡FB live with Michelle Hunter – Creating confidence in your copywriting⚡
Copywriter and consultant Michelle Hunter joined me live on my Facebook page to share her tips on how to create confidence in your copywriting – watch it now:
⚡Copywriting guru Ray Edwards and his best-selling book:⚡
Pick up a copy of his book, How to Write Copy That Sells, to really get into the ins and outs of copywriting. (The eBook is currently free if you have Kindle Unlimited!)
⚡My podcast episode with brand voice expert Justin Blackman⚡
⚡Another podcast episode with email marketing strategist & copywriter Allea Grummert⚡
⚡My podcast episode with marketing pro Tyler J. McCall and his expert brand voice tips⚡
⚡My podcast episode with Amisha Shrimanker & how to rise to the top as a copywriter⚡
How to Become a Virtual Assistant
Infosession with Emily Reagan
LIVE 12pm est Wednesday, Sept. 20
for stay-at-home moms, military spouses, teachers and career-changers
( no pitch, just the goods on what you need to know to stop forever researching and don't waste your money on a basic b set up course.)
The Takeaway: Learning copywriting skills as a virtual assistant is a lucrative way to niche down and raise your rates.
Just remember the 3 P's: patience, practice, and personalization. Those are the keys to success as a copywriter.
Your clients are eager for this type of help. And if you're a smart go-getter, you can be there for them and build the premium rate packages to demonstrate it.
If you're still feeling a little unsure about copywriting, go HERE to check out the 10 tasks that clients are hiring a virtual assistant to help with. Or if this type of advanced training is right up your alley, consider applying for my digital marketing workgroup, where you'll have insider access to digital marketing pros and plenty of networking and job opportunities.
Wherever you are on your digital marketing journey – trust me – there's a client who NEEDS you!
Keep writing!
-Emily, Digital Marketing Consultant and Implementer
"I help smart women learn the in-demand digital marketing strategies and profitable tech skills to get hired as a unicorn digital marketing assistant."
3 ways we can work together:
1. Do you need to acquire digital marketing implementation skills and build your workflows so you can solidly put yourself out there for work? Check out the Unicorn Digital Marketing Assistant School. (It opens twice a year so jump on the waitlist now!… I also share job leads with my students so it's a gateway for anyone who wants to build a freelance business that gives them flexibility and meaningful work). You can also choose to go through the self-study program now. Enroll here.
2. Already doing the work and have clients? But need more clients and a better referral network? Apply for my Digital Marketer's Workgroup. This is a tight-knit community of freelancers like you, supporting each other. Plus I've shared 1,600+ job opportunities with this community.
3. Need to hire a Unicorn Digital Marketing Assistant? Submit your job opportunity here. I'll share with my workgroups totally free.
Further Reading: