Lessons from a Digital Marketing Virtual Assistant Who Actually Does the Work:
One of the most intimidating steps of becoming a freelancer or digital service provider is creating your virtual assistant contracts.
Virtual assistant contracts are daunting and full of confusing legal jargon. So today we'll break it down into what you really need to know … and why you need a contract.
If you're already working as a virtual assistant, this will article help you refine your contract and include terms you may have forgotten.
If you're brand new, it's a great place to start. I highly recommend grabbing Braden Drake's Contract Vault for $30 and starting with one of his templates.
If you're a business owner hiring a virtual assistant to your team, this will help you understand the contract you're signing and make sure your bases are covered too.
So let's dig in!
This blog may contain affiliate links for programs, tools, and courses that I recommend. If you purchase these programs, I could receive a small commission. Thank you! I only recommend vetted programs and tools I use myself! Please check out my tool & resources guide here.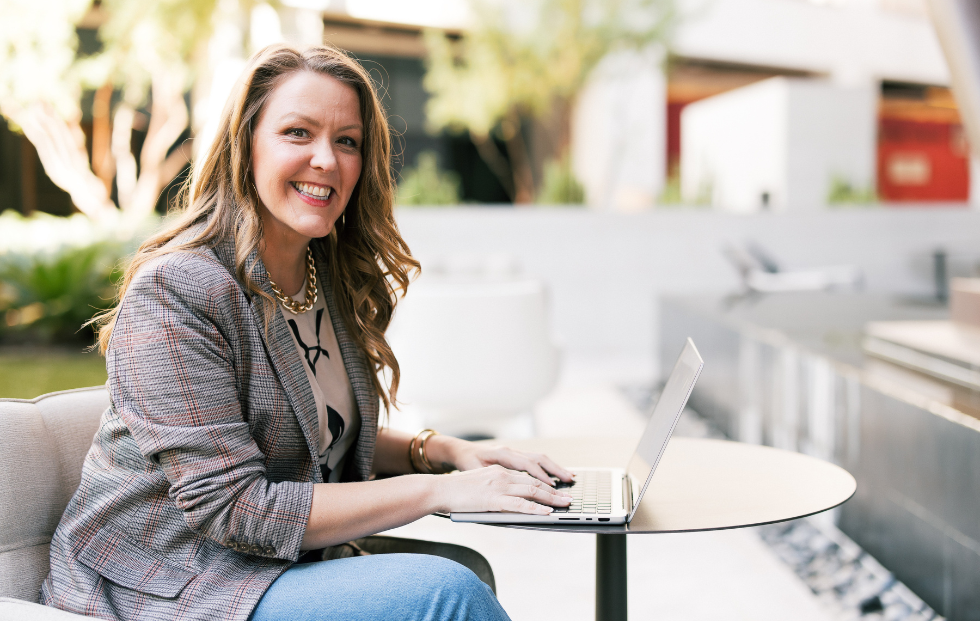 Hi, I'm Emily
I have been freelancing since 2009 when I started writing press releases for some of my local clients. I kinda fell into freelance retainer work after. It changed my life. As a military spouse who moves every 1-3 years, it was the first time my work moved (or PCSed) with me and I didn't have to keep starting over.
This freelance work changed my life in other ways too:
It allowed me to be home with my four kids and be the one to raise them
I made extra money for fun things like travel, massages, kids' extracurricular activities or car repairs.
My brain stayed active, challenged, and up-to-date.
I was part of a team again.
I got to help people (my clients!)
I had my own thing outside of mom life or my husband's military rank.
For the last decade, I've worked with clients in retainers, projects, and fractional services. My client load has always been full because I offer a rare skill set that involves marketing.
So now I teach my fellow over-educated, under-employed military spouses, and stay-at-home mom friends how to do the same work I still do inside the Unicorn Digital Marketing Assistant School. We focus on the marketing tactics of email, funnels, content, SEO, social, and affiliate marketing. It's level-one marketing that opens the doors to other managerial positions and creative specialities.
To be successful at any independent contractor business, whether a virtual assistant, marketing assistant, or any kind of digital service provider, we must set up our business and run it legally. And that means contracts.
Why Do I Need a Contract?
It comes down to three reasons: protection, professionalism, and legal requirements of operating as an independent contractor.
The simplest way to prove that a client has asked you to do work, has agreed to pay you for it, and has the work has been accepted by you is to have a written document signed by both parties. Legally, oral contracts exist but are harder to prove in court.
Contracts are also known as Client Services Agreements (CSAs)
A client service agreement is a legal contract that specifies the relationship and responsibilities between a client and a service provider. It's important that you are clear on the scope of your work plus how and when you will get paid. A contract will help you navigate expected events.
As an independent contractor, there are a couple of things to know:
Your clients cannot treat you like an employee, or they will get in trouble with the IRS. There are laws that protect you against this misclassification. The IRS states "individual is an independent contractor if the payer has the right to control or direct only the result of the work and not what will be done and how it will be done."
You must have a contract.
Your client may not dictate the timeline, structure, style, and other parameters of a project or workload. You get to control this!
Your client may not treat you like an employee: giving you paid time off, reimbursing for expenses, etc.
You must perform a task or service that is outside the client's usual course of business. (You can't be working on the main business service. I.e. it's a copywriting agency and you're are doing most of their copywriting.)
You must pay your own self-employment tax.
As an independent contractor, you must be your own advocate and look out for yourself in these situations. You will look smarter, gain trust and see why you need to charge more as a freelancer.
I know many VAs who become full-time employees on their teams. That's because once they get contracted, start doing work and prove themselves, they become indispensable. I teach this inside the Unicorn Digital Marketing Assistant School. If you can just get your foot in the door, you will quickly become invaluable and one hot commodity.
Ok, now that we've covered those basics, let's talk about contracts.
Virtual Assistant Contracts & Client Service Agreements with Attorney Braden Drake
Braden explains why contracts instill confidence in your work abilities with every client.
Why do you need a contract? What should you do if someone has paid you and ghosted? Watch this.
A quick 9-minute video on virtual assistant contracts — If this information is helpful, please leave a thumbs up and subscribe to my channel while you're there!
What Goes in Virtual Assistants Contract or CSA?
Contracts set the tone for your working relationship. Be clear as possible. Really think about what you need to do your job and what will make the relationship successful.
Be clear on your pricing. Is this a fixed fee? Retainer? Hourly? And when is the work billed? Before? After? 50% down? You cannot surprise your client after you've made these agreements.
Here's what to include in your virtual assistant contract:
Your Fee
Your Services – Scope of Work, Responsibilities, Deliverables
What Services do you NOT include
Payment Terms – When and How – Deposit? Late Fees? Penalties?
Retainer hours, rollovers + overcharge
Restart Fees, Rush Fees
Deadlines, Key Project Dates
Client Deliverables, Deadlines & Turnaround Times
Revision Process & Limitations
Communication Channels
Contact Times, Working Hours
Who do you work with/ report to
Contract Length
Termination Terms
Confidential Info, Ownership Rights
Include a place for signature and date
Also note: Termination terms are crucial. We don't always terminate virtual assistant contracts for bad reasons. Yes, sometimes we get off the "happy path" with clients and service providers, but the contract has not been breached. Sometimes we just need to renegotiate, add to the services, or change the pay. Your termination terms will say exactly how to do this. Termination for convenience is common practice to be "30 days written notice via email."
Breach of Contract
A breach of contract is a violation of any of the agreed-upon terms and conditions of a binding contract. The breach could be anything from a late payment to a more serious violation, such as the failure to deliver a promised asset or missed deadlines. It also includes those awkward moments when the client fails to perform their part and get you what you need to do your jobs. (Hence I included the client's deliverables in the contract checklist.) The non-breaching party can pursue a claim for damages caused by the breach.
So always do your obligations as the digital service provider and communicate ahead of time if something will get in the way of you performing your contractual obligations. Most clients are understanding.
Also note: When a contract has been breached by the client, aka they didn't pay you on time, the contract can be terminated.
Free resource to run through every time you create a new client's contract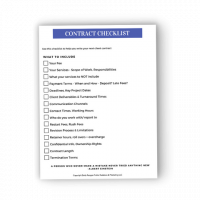 Download my Virtual Assistant Contract Checklist
I've put together a list of terms and conditions to include in your next contract, whether you're offering retainer packages or one-time project services. This will help project manager, virtual assistants and service providers get clear and specific in your contract. This is NOT legal advice.
Who Supplies the Virtual Assistant Contract?
You do. Your client does NOT draw up the contract. It is your responsibility as an independent contractor. Bring this up in your discovery calls and next steps in your proposal. Take ownership of this process and do NOT start work until the contract is signed.
How to E-Sign Virtual Assistant Contacts?
Use any kind of electronic document service like Acrobat, HelloSign, PandaDoc, or DocuSign. Client management software tools like Honeybook or Dubsado will also offer e-signatures. You can always sign and scan. I have a phone app I use in my personal life for turning paper into PDFs: CamScanner.
Note: Always sign as your LLC name if you have one.
Where to get Virtual Assistant Contracts
Do not pay $200 for a template! Lawyers will charge you $500+ an hour. Both are just insane. Especially since you have so much customization and refinement to do from client to client and project to project.
Attorney Braden Drake — my friend from the Youtube video above — created a Contract Vault for service providers. It's by far the best place to get a contract template and learn more about contracts and how to protect yourself.
Right now his Contract Vault is only $30. Scoop it up here. What I love about his Contract Vault is you will be educated and empowered through his trainings.
You can also find template shops online, or utilize the ones inside Honeybook or Dubsado.
My Freelance Biz Kickstarter course includes a 6-page client services agreement you can adapt to your needs. This also course includes lessons on portfolios, discovery calls, and business set up.
What Documents Will My Client Provide for Me to Sign?
Your client may want to protect their business and ask you to sign any of these contracts
Non-Disclosure Agreement or NDA
Non-Compete Agreement (I would refuse to sign this)
Data Protection Agreement
Client Intellectual Property*
*This could also be a clause in the contract you provide
You must have your pricing and services figured out BEFORE you create the contract.
Podcast Alert: 4 Freelance Pricing Models
This episode of my Unicorns Unite podcast will help you figure out your pricing so your contracts are solid.
Listen on Apple | Spotify | iHeartRadio
Need help with your services?
That's where I can help you inside the Unicorn Digital Marketing Assistant School. Keep reading to learn more!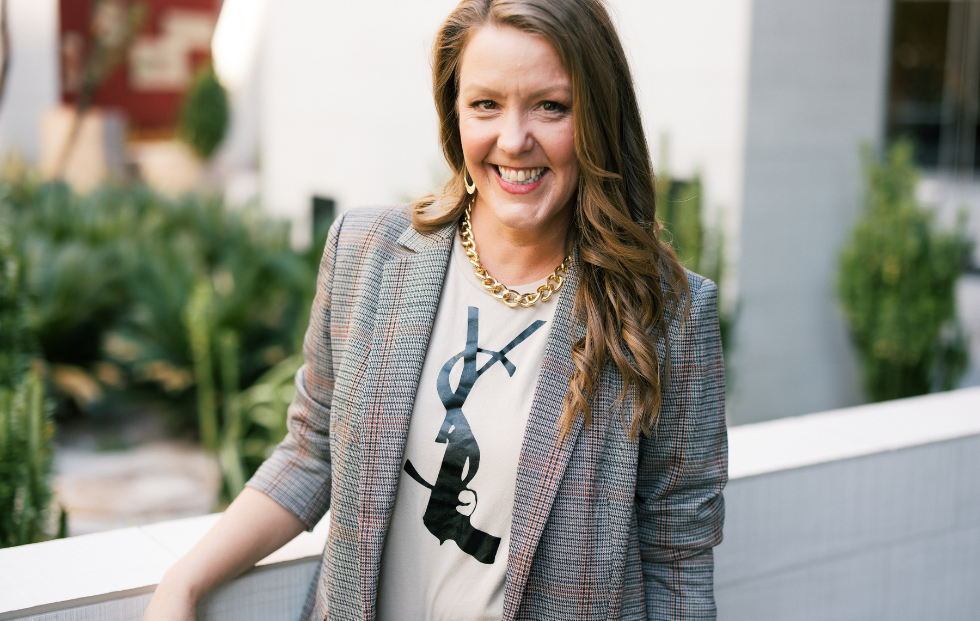 I hope you found this article about virtual assistant contracts helpful. This is the part of the blog where I sum up what you really need to know. Especially if you are a skimmer like me…
Virtual Assistant Contracts: The Takeaway
I've worked with over 101 clients and have only been screwed over ONCE by a client who didn't pay me. This is ultimately why we have contracts. We want to get paid for the work we do.
Looking back, I had plenty of red flags with this client before I started even working with him.
In the end, I was only out $200, and it was NOT worth legal action. It still hurt, and I had to suppress my internal need to get revenge.
But karma is king, and that's not my job.
The best way to avoid this worst-case scenario of not getting paid is to require your retainer hours paid at the beginning of the month and never do work until you are paid or have secured your deposit.
If you are billing after the work is complete, then NEVER start new work until you've been paid.
If you are hourly or doing retainer work, you'll want to track your time and tasks in case a client ever questions your hours.
It's ok to take on extra hourly work outside of the agreed-upon services. If your work goes beyond the scope of the contract, have your client provide a written work request. That way you can prove the client asked you to do work, and you can get paid when you complete it. This way, you'll be protected beyond an oral agreement.
Permission to Start
Your virtual assistant contracts will get stronger with each client. As you take on the work, learn who you work well with and what you love doing, and solidify your boundaries, your contracts will be a living document that you refine and perfect from each client to the next. It's best to get Braden's $30 Contract and just start.
Don't be scared. Starting a side hustle, putting yourself into the digital hiring pool, and creating options for you to make money — it's all worth it!
Want to know more about becoming a Virtual Assistant?
I've created a recorded infosession with everything you need to know to get started. It's called "How to Become a Virtual Assistant" and it's absolutely free. Sign up here.,
Next Steps for Virtual Assistants
Time to get serious about your services
Inside my Unicorn Digital Marketing Assistant School, I teach go-getters HOW to implement your client's marketing strategies when it comes to daily, weekly, and monthly tasks… and launches! This sets you up to build a healthy foundation and understanding of online marketing. If you want to know why digital marketing assistants are so rare and so popular — and why they book out easily, then listen to this podcast episode.
UDMA School will give you confidence in performing the digital marketing mechanics and tasks, and help you set up your freelance business, and help you sign your first clients — all for less than the price of 1 college credit course. It's one of the few VA courses that actually teach HOW to implement the work.
FYI: Most VA courses focus on setting up your business: all stuff you can quickly google or get a lawyer's help or your local chamber.
What's in UDMA School
In 12 weeks in UDMA School, we cover the core tasks of email marketing, funnel building, blogging, website updates, affiliate marketing, and social media marketing. After all, if you don't know HOW to do the work, you won't sign the clients. I teach my students what they need to know to get started and ultimately apply this marketing knowledge to different client businesses.
Once you start as an assistant, you can quickly uplevel into a marketing manager or one of the specialties below. I always recommend trying it out to gain clarity for your next career steps.
My Unicorn Digital Marketing Assistant School will show you the path to becoming a virtual digital marketing assistant — you'll learn how to do the work and get your first clients. We'll also help you with your virtual assistant contracts and business setup.
If you have questions about it DM me on Instagram @emilyreaganpr or post in our Facebook Community.
You can do it!
Further Reading