Lessons from a Digital Marketing Virtual Assistant who actually does the work:
Note: This post may contain affiliate links for your convenience. If you click these links, I may collect a small return from your purchase.
Are you a traditional office employee who is looking for a new opportunity to work online from home? Here's how you can leverage all of your awesome office and administrative skills to start offering your own freelance digital services! There are so many online business owners who need admin support on their team right now.
Working from home has become a huge opportunity for so many people since the pandemic started. And now I know a lot of people who are being called back to return to their office. Except many have realized that they don't want to return to that traditional 9-5 inside a boring cubicle. Because once you've had a taste of that WFH lifestyle, it's hard to go back!
So here are six specific services that you can offer using your administrative skills if you want to begin working online as a virtual assistant:
1) Calendar Management
In your 9-5 office job, you might have helped coordinate a team calendar. Whether that was a digital calendar in your office network or even on a calendar board on the wall, this is a skill that directly translates to the online space!
Many small business owners use something like Google Workspace. And then in Google calendar you can sync with a program like Acuity or Calendly so clients can easily book calls and appointments. Meanwhile, it automatically starts kicking off your follow-up tasks in your client's sales funnel – such as a series of emails, etc.
Not only do you need some solid administrative skills to manage this process online, but you also have to know your individual clients. You have to have a solid understanding of their time and when they are available, as well as their top priorities.
And ultimately, you want to help them be more efficient and protect their time from unimportant interruptions. That often looks like setting aside time to do batch work when tasks are done in groups. For example – designating that Monday is when time is scheduled for office work and forms, Wednesday is the day to focus on growing the business without interruption, etc.
Getting your client on track with their weekly calendar and making their schedule manageable is invaluable!
2) Email Inbox
Trust me – that email inbox gets overwhelming quickly. And that is super frustrating for a small business owner. I even struggled with this myself. That's exactly why one of my first hires was someone to help manage my emails!
A small business owner has got to find a way to sort, filter, and prioritize email messages.
Of course, they're going to have emails from their paying clients and customers. And it's a high priority to keep them happy, whether they are having issues signing onto their account, receiving their order, or understanding their purchase.
Next, you want to find a way to respond to those potential clients and customers. They're the key source of potential growth.
Meanwhile, plenty of other emails are clearly spam or can be put on the back burner for a while.
A good unicorn VA will help set up filters to sort and prioritize incoming emails, and send them along to the appropriate person if there is a larger team who handles different requests.
It's all about taking care of the mundane tasks that don't require the business owner's direct input. The business owner will rely on you to help out so they can focus on just those emails that require their personal attention. (It's all about that 80/20 rule…)
There are some great tech tools to help – like Hiver, Help Scout, and Streak – but a unicorn VA can help organize all of those pieces and parts together.
Then, once the email system is rolling, you can start to build FAQs as you notice repeat questions. That makes it easy to copy and paste from the document for future reference. It will also give you a window into some of the pain points of your customers, which is a great source for planning future content!
3) Develop Standard Operating Procedures (SOPs)
Many new online business owners quickly get overwhelmed. They have the creative energy and ideas but get bogged down in the processes and tech aspect.
It's a challenge to actually deliver their product or message to the potential customers that want them. It's too much for one person, especially if the business owner is a creative type that doesn't have a lot of experience in business organization and tech!
On the backend of many these businesses, it's usually messy, chaotic, and inefficient. Important parts get lost in the shuffle – like those good content pieces, warm customer leads, and missed opportunities. Plus the stress is high and the idea of growing and scaling up even more seems impossible.
But it really is possible to work less and make more money IF you're positioned to do that. Which is why administrative skills are invaluable in the online space.
That's why these business owners need a very organized unicorn VA – someone with strong administrative skills who is detail-oriented and tech savvy enough to help get all the online pieces in place.
That's where you come in – you can help to streamline the business and create those vital SOPs (Standard Operating Procedures) that create uniform processes and workflows.
Basically – you need to break down the steps. Who is going to do the work, and how does it get done?
This kind of work is gold to a stressed out, unorganized business owner. Because it allows them to focus their energy on the front end of the business where it belongs, and know that behind the scenes you have things running smoothly like a well-oiled machine.
Plus – then there's no need to recreate the wheel!
Each process can be easily duplicated, tweaked, and shared when new team members or contractors come on board. As the team grows and business scales up this becomes even more important. Each team member knows where to find all the pieces that they need, and are ready to do their part of the job.
Again – there are plenty of project management tools to help – Asana, Trello, Airtable, etc – but ultimately it's an invaluable unicorn virtual assistant who can bring it all together and help it all make sense in the big picture.
And if you have the solid administrative skills that these online business owners need, that could be you!
Hey business owners – sound familiar? Then you are probably ready to hire your first unicorn VA!
4) Organization
Are you the one in your office who loves organizing your files with color coded folders and cross-referenced lists? Then this is your time to shine!
Here we're taking it a step further from those SOPs.
Now it's time to consider organizing the entire shared online workspace. This is another big need where those online administrative skills are a huge help.
This is when you set things up for future access. Create folders and organize the digital files, whether it is in google drive, dropbox, etc.
Because a messy file system is going to haunt that business owner forever. Especially when they grow into a bigger course or ecommerce offering! You definitely need to keep your promotional assets organized and easily accessible.
That's why Amy Porterfield is a big advocate of this backend organization. She promotes the EOS (Entrepreneurial Operating System) for businesses. You can learn more about this specific system from author Gino Wickman, who created it, if you want to get a head start right now.
Ultimately the long term potential for success for the business owner starts at the ground level, with the unicorn VA who is resourceful and organized.
5) Invoicing
If you want to be a successful online busines owner, you've got to have a solid plan for making and receiving payments! This is a great apportunity for a virtual assistant to use those administrative skills to help with online invoicing and billy paying.
Whether your client prefers Paypal, Quickbooks, Dubsado, etc – they're going to need help with sending and collecting money.
This doesn't mean you need to be a fully skilled bookkeeper or accountant. (Although if you are, there are plenty of online opportunities for that!) You can contract those details out once your client grows and expands.
But, you can still offer a lot of value to that online business owner just taking on the basic invoicing and account maintenance.
6) Transcription
Don't assume that this is one of those tasks that is completely automated now. Sure, we have some great digital tools, like Otter, Reb, and Searchie, that help create quick text transcripts from video and audio files.
But – they're not usually enough. Especially if you want to repurpose that content for other purposes like blog content and email marketing. The text will need to be improved and tweaked.
Your client will almost always need an human to go in, check the AI, and clean it up. There is SEO to consider, and relevant links to add.
Then, you can just adjust the format and use that content in a lot of new ways – even a PDF freebie or ebook download!
This is one of those classic administrative skills that is still very relevant in the online world.
⚡Related Podcast Alert: How this guru helps business owners get organized
Want an example of exactly how powerful it can be to help solopreneurs with organizing their business?
Take a break and listen to my recent podcast episode:
Are you intrigued? If you've been working in an administrative assistant or office manager role and want to pivot your administrative skills to the online space, there is plenty of opportunity out there to work from home right now!
Your skills are in demand and are vital to these online business owners who have plenty of creative vision but need help to keep the day-to-day tasks running smoothly.
The Takeaway: Administrative and office management skills are a great springboard into the world of working online from home!
But don't get defeated by the job ads and Fiver posts that offer basic admin tasks for cheap rates.
These struggling solopreneurs need a lot more than a data-entry robot or a one-and-done task completer.
Business owners need a real business sidekick – someone who sees the big picture and knows how all the pieces fit together.
They need someone who actually gets immersed in the daily routine of their online business. Not someone who simply marks things off a short to-do list and hands it all off at the end of the day.
They need a unicorn virtual assistant – the magical VA who makes magic happen behind the scenes.
That's why I created my own business to teach virtual assistants how to work online. I met so many smart women with these amazing skills for working online. They just needed that boost to build their toolbox of online skills and digital media knowledge.
Prefer to watch the video? Here's the info about using administrative skills online on my YouTube channel:
Ready to learn more? Sign up for my free masterclass where I'll show you all the ways that you can work online, from home, starting with the skills you have right now.
If you're ready to make that leap into working for yourself while helping business owners bust into the online space, this is the class you need. You can sign up right here for the class and watch it from the comfort of your home at your convenience:
Or if you're already working online and eager to level up your virtual assistant services to the premium level, consider applying for my VA workgroup.
This private, exclusive membership group is open only by application to experienced virtual assistants and digital marketing freelancers.
Within the workgroup you'll find networking and collaboration, insider tips, high-level training, and exclusive job opportunities from my own network of online business owners.
Get ready to bust into the online space with your in-demand administrative skills!
– Emily, Digital Media Virtual Assistant AND Small Business Owner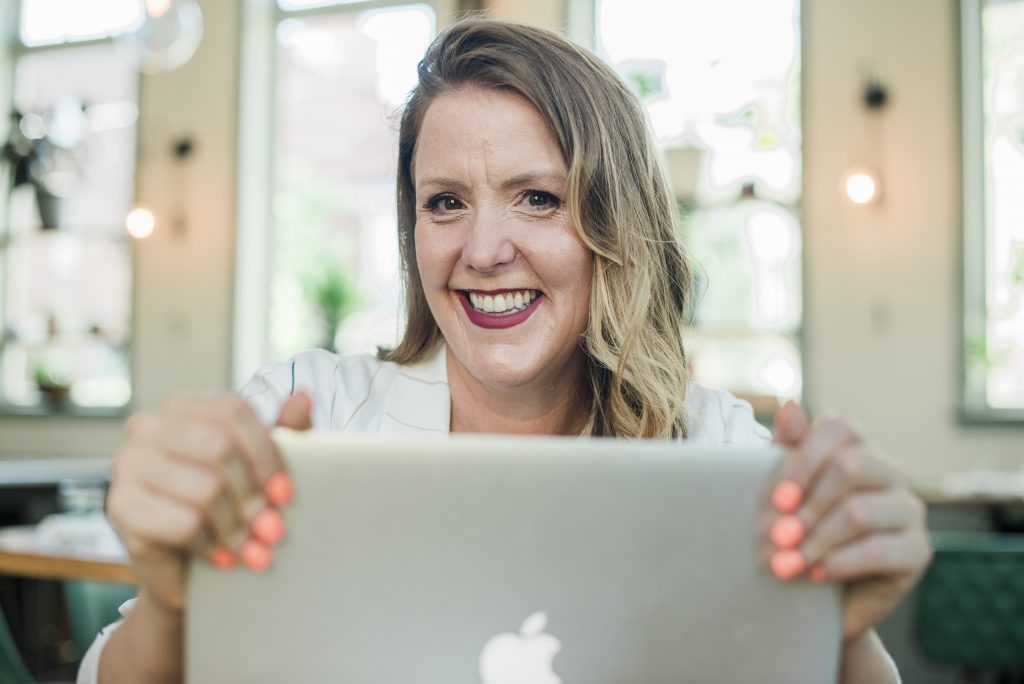 "I help smart women learn the in-demand digital marketing strategies and tech skills to get hired as a unicorn virtual assistant."
Further Reading: