Lessons from a Unicorn Digital Marketing Assistant who actually does the work:
It's that time of year when we're all thinking about how to get more organized. As a digital media virtual assistant, it's a good time to streamline your business workflows and make your work more efficient. Often that means adding new apps and software, like CRM tools. The downside is that adding more digital tools to your toolbox means you're keeping track of more passwords. Especially as your VA business grows and you have to keep track of more client passwords, too. But guess what? There's a password management app for that…
Tell me more…
Some security tech geeks recommend that we change all of our passwords every 30 days or so. And then we're supposed to create unique passwords for every new website and app we join.
Now, usually real life gets in the way and that doesn't always happen. But we should still be recommending that our clients follow some of these best practices to protect their business accounts. And unfortunately that can get messy really fast.
Not to mention that there are privacy breaches every few weeks or so. If you've been using the same password for more than a year, or on more than one or two sites, chances are it's already published out there for people to steal. Ditto for your clients.
And I don't think I need to even explain how much of a disaster it can be to have your business accounts hacked. Your client may have spent years to build a brand with a robust following on social media. But that can all be taken away in minutes by a rogue hacker who locks them out of their own facebook page, or starts filling their Instagram feed with spam and obscene images.
How to manage all those passwords…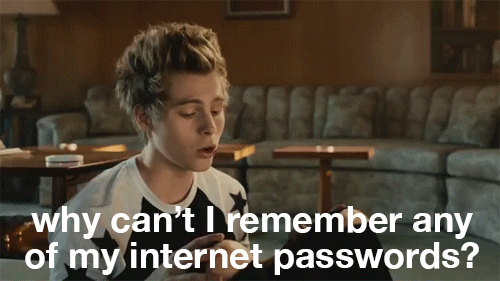 The good news is that there are plenty of options to make this easier for you and your clients. For example, you can build a strategy that makes new passwords easier to develop and remember. And you can start using password management tools, both for your own personal accounts and for those of your clients.
The password management programs out there now offer a ton of different services and features to help keep your passwords safe and secure. And they make it easy to keep your and your clients' passwords handy when you need them, regardless of your location or device. They update automatically when you change a password.
Plus, they often offer features that help you see if your passwords have been leaked to hackers, or if your passwords are too old or weak to be secure. That can make life much easier for you and your clients!
Many paid services offer the option for your clients to add you to their team and share their account with your account. But some clients will just send you their personal login info and you can access their password account that way. Obviously that's not the most secure way to do it, but sometimes that's what works best for your client.
Four of the best password management tools for digital marketing VAs:
Lastpass is probably the most popular password management tool among working VAs. They offer a free option that allows you to share your passwords one-to-one, although if you're collaborating with a team of people you'll want to upgrade to their paid premium service so that you can all share passwords together. I personally use LastPass and it works well for my digital media biz.
1Password is a favorite among VAs that love its ease of use. They offer a free trial but do require a monthly fee for continued use. However, business users can get access to the personal/family password vault tools with their paid business account.
Dashlane has had a growing fanbase of users after some recent updates. One of the most popular benefits is that they offer the ability to store your data on your own devices if you prefer to keep it off of their servers.
This is one of the most basic ways to save and share passwords. It's simple to set up, and it's free. It does have some drawbacks, though. Your passwords are only as secure as your google account (or your client's google account, if you share access). And you or your client have to remember to manually update the page with new passwords when you change them.
The Takeaway: Make it easier to keep your passwords secure and updated
Passwords are never going to be one of the fun and exciting parts of running your business. But it's important that you are keeping your accounts, and your clients' accounts, safe and secure. Make it easier on yourself by checking out some of these password management tools and save yourself a lot of time and stress in your daily workflow.
Productivity Tips for Freelancers and Virtual Assistants
Productivity Coach Brittany Dixon is a professional organizer for business owners and she is going over her best tips for organizing your business at the end of the day and her Three P's of Productivity method. Add this in with better password management and you'll be an impressive, can't-lose, organized workhorse for your clients!
⚡Related Podcast Alert: How to find your perfect niche as a virtual assistant
This is my podcast dedicated to unicorn digital marketing assistants, specialists and virtual assistants who are doing the work and strive to get better and make more money. Check out this podcast episode to help you advance!
Listen on Apple podcasts or your favorite podcast app
Get more quick tips and trainings, for free:
I've been working in digital marketing for 13 years, and I've learned a lot of great info. And now I've made it a goal to help others like you to break into the online space and help these clients who are desperate for a unicorn VA to join their business team.
To help you see if you like this kind of work, I'm offering free digital marketing trainings right here. These are little tidbits that will help you with HOW to do the work.
Whether you're brand new to working in the online space, or you want to build your toolbox for your VA biz, get signed up now to be one of the first to find out when each free digital media mini training will launch. From Kajabi and ConvertKit to graphic design and admin, these are essential tools and topics you won't want to miss.
Join us and build your biz!
-Emily, Digital Marketing Consultant and Implementer
@emilyreaganpr
4 Ways we can work together
1. Do you need to acquire digital marketing implementation skills? Check out the Unicorn Digital Marketing Assistant School. (It opens twice a year so jump on the waitlist)
2. Already doing the work and have clients? But need more clients and a better referral network? Apply for my Digital Marketing Workgroup.
3. Maybe you don't need to learn the hard skills but need help setting up your independent contractor business? Don't spend $1300 on a "typical start-your-VA business-course." Learn the quick steps in my Freelance Biz Kickstarter only $297. Inside you'll get a contract to use with your social media clients and services.
4. Need to hire a Unicorn Digital Marketing Assistant? Submit your job opportunity here. I'll share with my workgroups totally free.
"I WILL MAKE AN ARMY OF VAS WHO CAN HELP THESE ONLINE BUSINESS OWNERS!!!"
Get started online:
Feeling overwhelmed and not sure how you can work from home and build your own online digital media business? Take a deep breath – you can do this. First start here with my list of 10 popular tasks that online businesses need help with the most!
These are the tasks that new clients are constantly asking for help with, and skills that they really need to find in a virtual assistant. Get access to this free download right now. Then make sure your own VA toolkit is up-to-date and relevant, and decide where you might need to invest in new growth and development for your biz.
Further Reading